One of over 100 areas in the UK selected by the Government to benefit from Levelling Up Parks, Pendle receives funding to create a new urban green space. 
Local people are being asked for their views on proposals for a small park near Nelson town centre.
"It's great news that we have been given £85,000 to create a new park," said Councillor Nadeem Ahmed, Leader of Pendle Borough Council.

"We know that having green spaces near to where we live is important for our physical and mental wellbeing, bringing us closer to nature."
The Council has chosen the open area next to the multi-use games area on Netherfield Road and railway embankment.
"This is a good location, near to neighbourhoods of terraced streets and the town centre, and fits in with our wider plans to revitalise Nelson," explained Nadeem.
Phil Riley, Green Spaces Manager said:
"We're keen to find out what people think to exciting designs and plans to make the most of this area.
"It needs to be an attractive green space which serves the whole community, from young to old.
"We'd also love to hear people's ideas for a name for this new park," he added.
There will be a marquee next to the multi-use games area (MUGA) on Netherfield Road, Nelson on Wednesday 8 February 12.30 – 4pm.
People are welcome to drop in, see the plans, have a chat with the Council's Green Spaces Team and the Landscape Architect and give their views.
The proposals can also be seen and commented on online via www.pendle.gov.uk/parks until 14 February.
Two options designed by a landscape architect are being put forward for people to consider.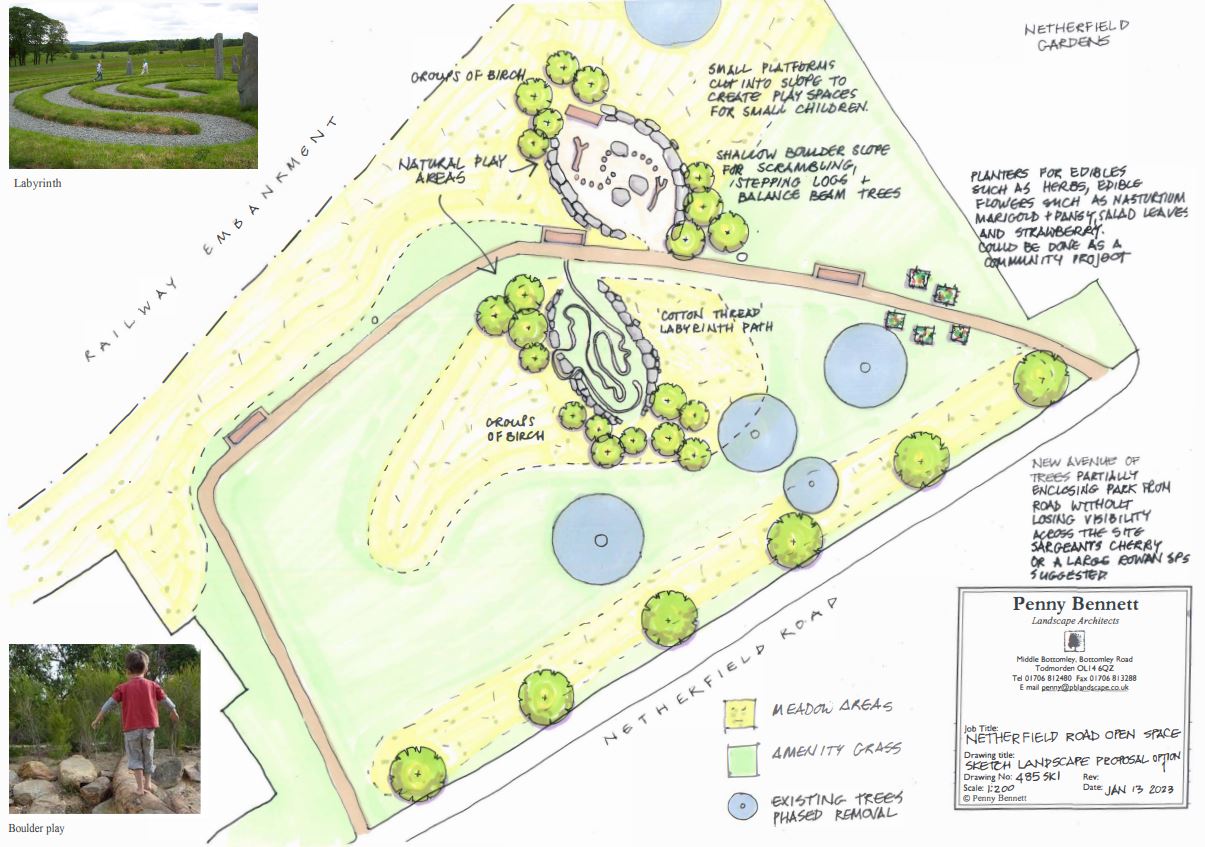 A landscape architect's drawing of option 1 for the park

Option 1 is for a natural area for imaginative play for children, including a cotton thread labyrinth path, boulder slope and stepping logs.
Planters for herbs and strawberries and edible flowers could be part of a community project.
Option 2 is for a more formal park and a small orchard of fruit trees, plus a trim trail for outdoor exercise
Proposals for the wider area around the new park include creating meadow grassland, planting wildflowers, and woodland bulb planting, including bluebells and wild daffodils.
Plans also include the cutting down of conifers and shrubs to allow more light into the site and the planting of a new avenue of trees alongside Netherfield Road.