The rebranded 'Peamutt Butter' pet treat from Manchester's Duerr's & Sons Ltd has secured a new listing in Morrison's stores.
The new-look packaging will hit Morrison's shelves across the UK for the first time this month under an introductory promotional offer in March.
Ranked the UK's number 1 peanut butter for dogs, the supermarket listing follows 12 months of growth for the pet product – with sales of Peamutt Butter up 63% on the previous year.
Manchester-based Duerr's & Sons Ltd believe the sales increase is driven by listings in Tesco, Sainsbury's, The Range and Jollyes in 2022 – as well as online available with sites like Amazon.
Pets at Home – who has stocked the product for seven years – have also seen an uptake in sales up 25% in the last year. Indpendendent pet food retailers have also seen an increase of 23%, proving even in the current economic climate consumers are still keen to spend on their fur family.
The product rebrand is the first of its kind since Peamutt Butter launched in 2016 and is supported by investment in a new website, PR outreach and social media marketing.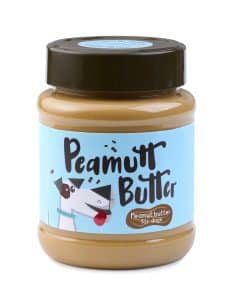 Duerr's – who is currently the biggest producer and distributor of peanut butter in UK – has introduced a new-look character 'Peamutt' on-pack to boost brand recognition on marketing channels and on shelf.
Sales and marketing director and 5th generation Duerr's & Sons Ltd, Richard Duerr, said: "The original idea came from our family dog's love of peanutt butter. As the biggest producer of peanut butter in the UK, it seemed a shame that our pets were missing out, so we created a prototype.
"Seven years on, we are rebranding to drive growth and secure new listings in the mults – like our recent win with Morrison's. We have a new 'Peamutt' as a character for the brand ensuring the product is more noticeable on shelf and becomes more familiar with consumers across multiple channels."
He added: "Even in a cost of living crisis trends show pet parents are still looking to indulge their dogs. Peamutt Butter is a good value for money, a largely affordable, treat that shoppers can grab in the supermarket while doing their weekly shop. The rebrand is aimed at keeping the product front of mind and ensuring we are the go-to for peanut butter for dogs."
Peamutt Butter is a vegan affordable treat for your pampered pooches across the UK. Designed as a snack for four-legged friends, it is packed full of protein and contains heart-healthy fats, vitamin B, niacin and vitamin E.
This spreadable, smooth peanut butter is designed to be used on dog toys and lick matts, as well as a training treat. Tapping into the ever booming 'fur baby' trend it can also be used as ingredient for dog home-baking. Peamutt Butter is available in 340g jars– RRP £2.50.
Duerr's & Sons Manchester – established in 1881 – is a family business barking mad about dogs. Famed nationwide for its household jams and marmalades, Duerr's & Sons is the biggest producer of peanut butter in the UK. Peamutt Butter was crafted by this family of dog lovers to ensure everyone in the family can enjoy the joys of the nutty treat.